We are a data visualization studio that focuses on building meaningful experiences with data.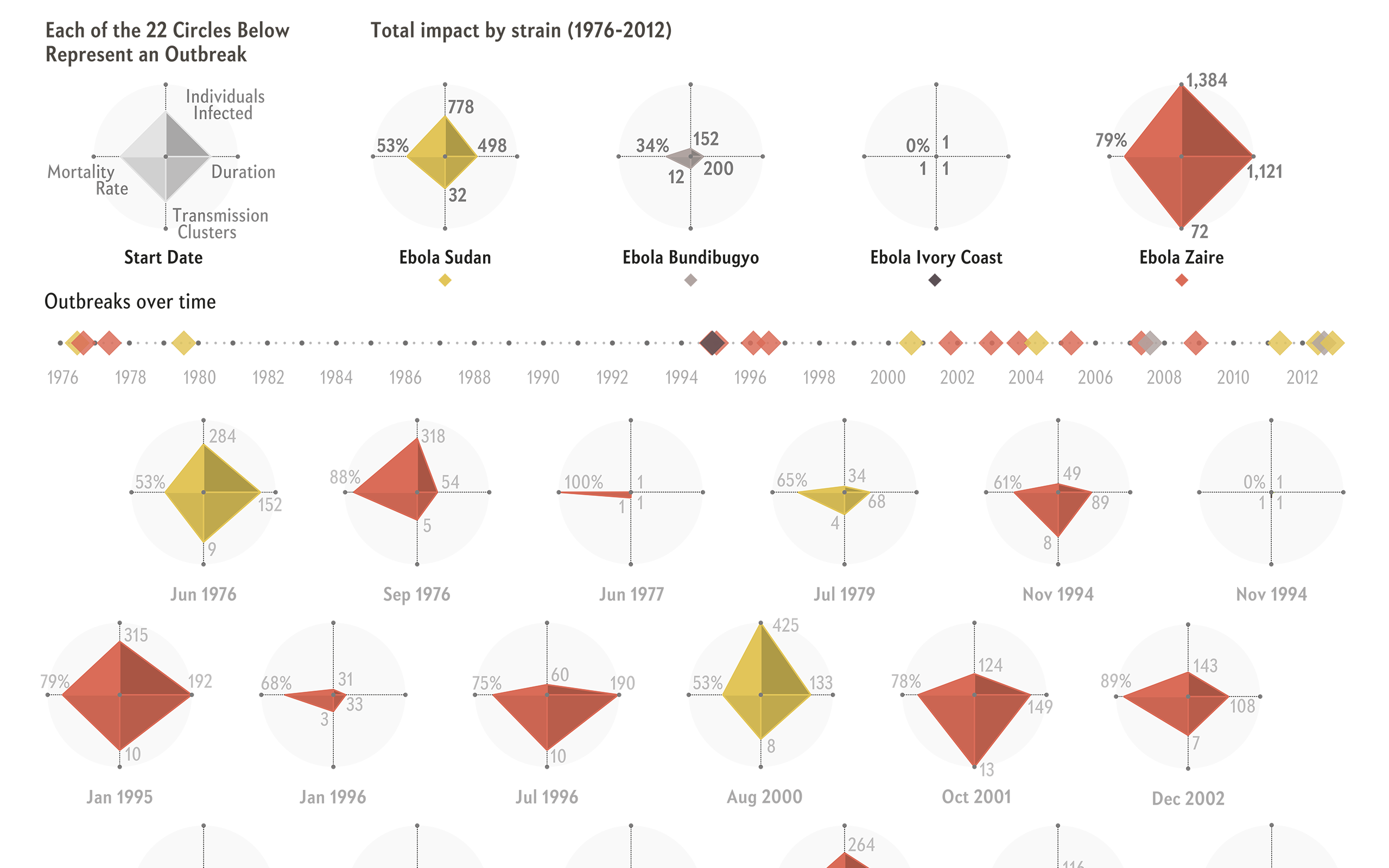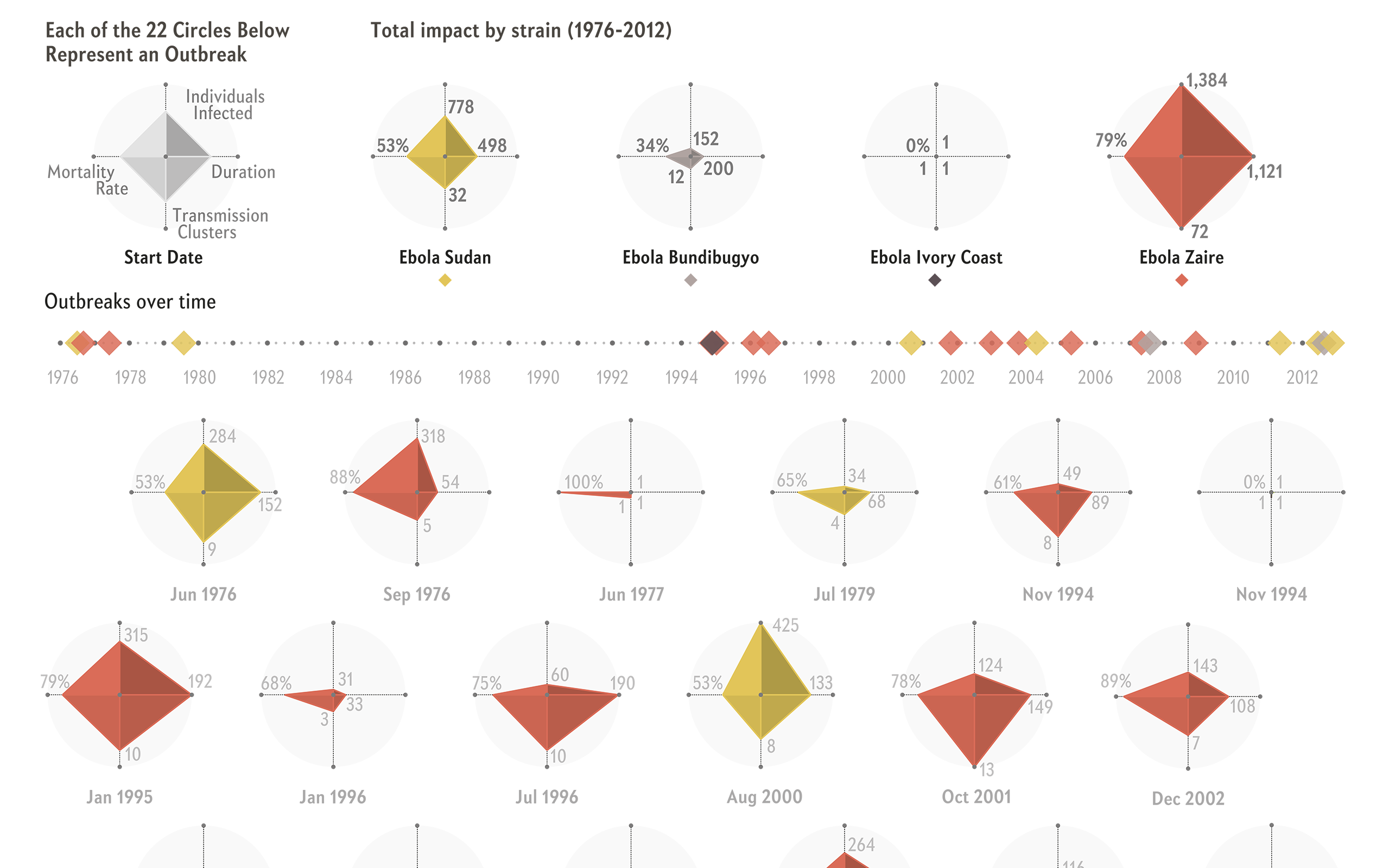 Project Name
Rise of Ebola
The most recent spread of Ebola in Guinea is the largest outbreak in history.

The most recent spread of Ebola in Guinea is the largest outbreak in history. We were asked by Scientific American to take a look at the historical data of outbreaks over the last 40 years. We broke down the data set by first showing the location an outbreak's initial case and impact of the infection and then by plotting each outbreak on a timeline. Though there isn't a clear trend by strain, location or date of occurrences over time, there can be small conclusions drawn looking at each outbreak by virus strain, mortality rate, total individuals affected, unique locations (transmission clusters) and the duration in days.
Again, these upsurges of the virus are all overshadowed by the current explosion of the Zaire strain in West Africa causing experts to be alarmed at possibility of Ebola becoming a permanent health risk.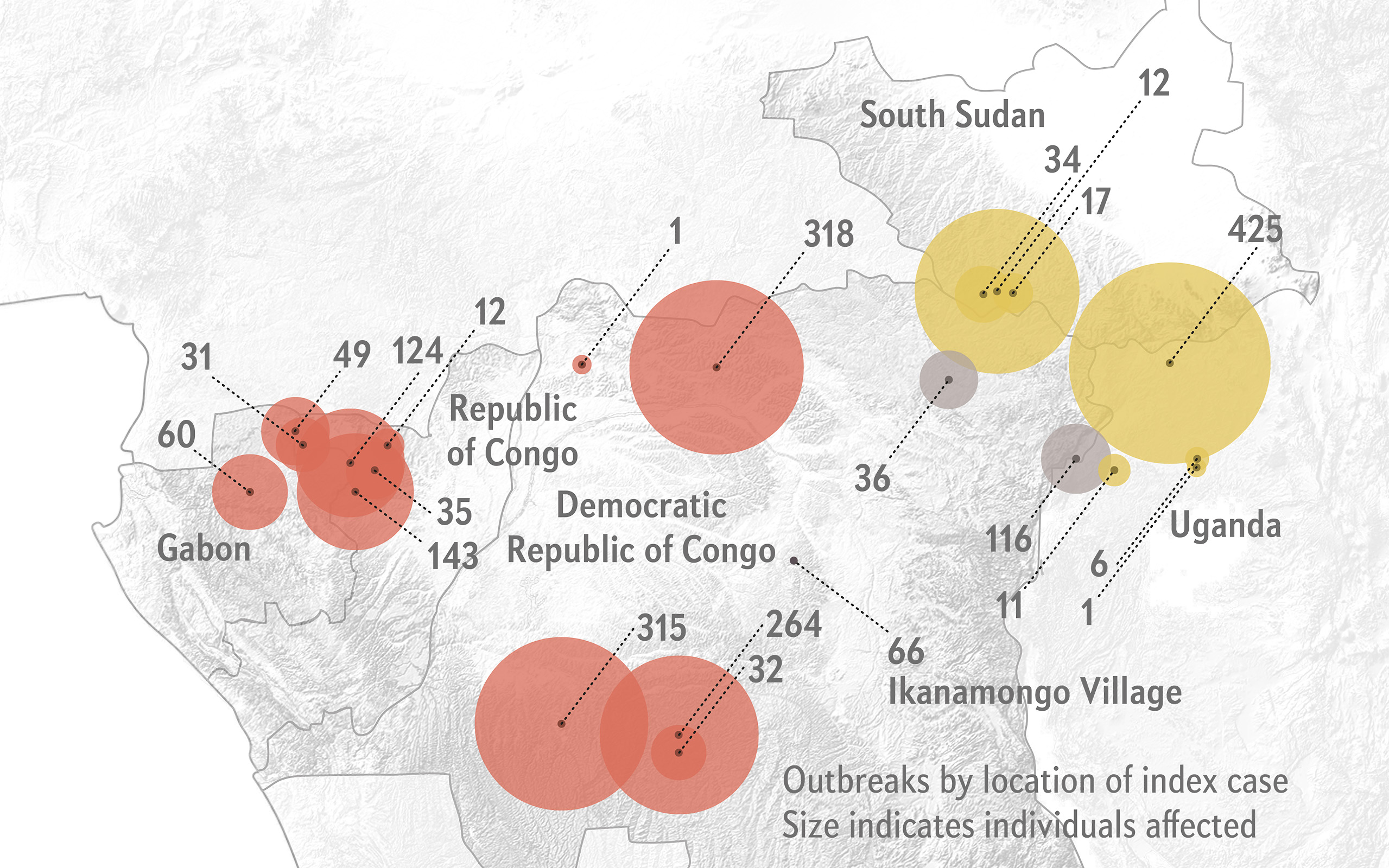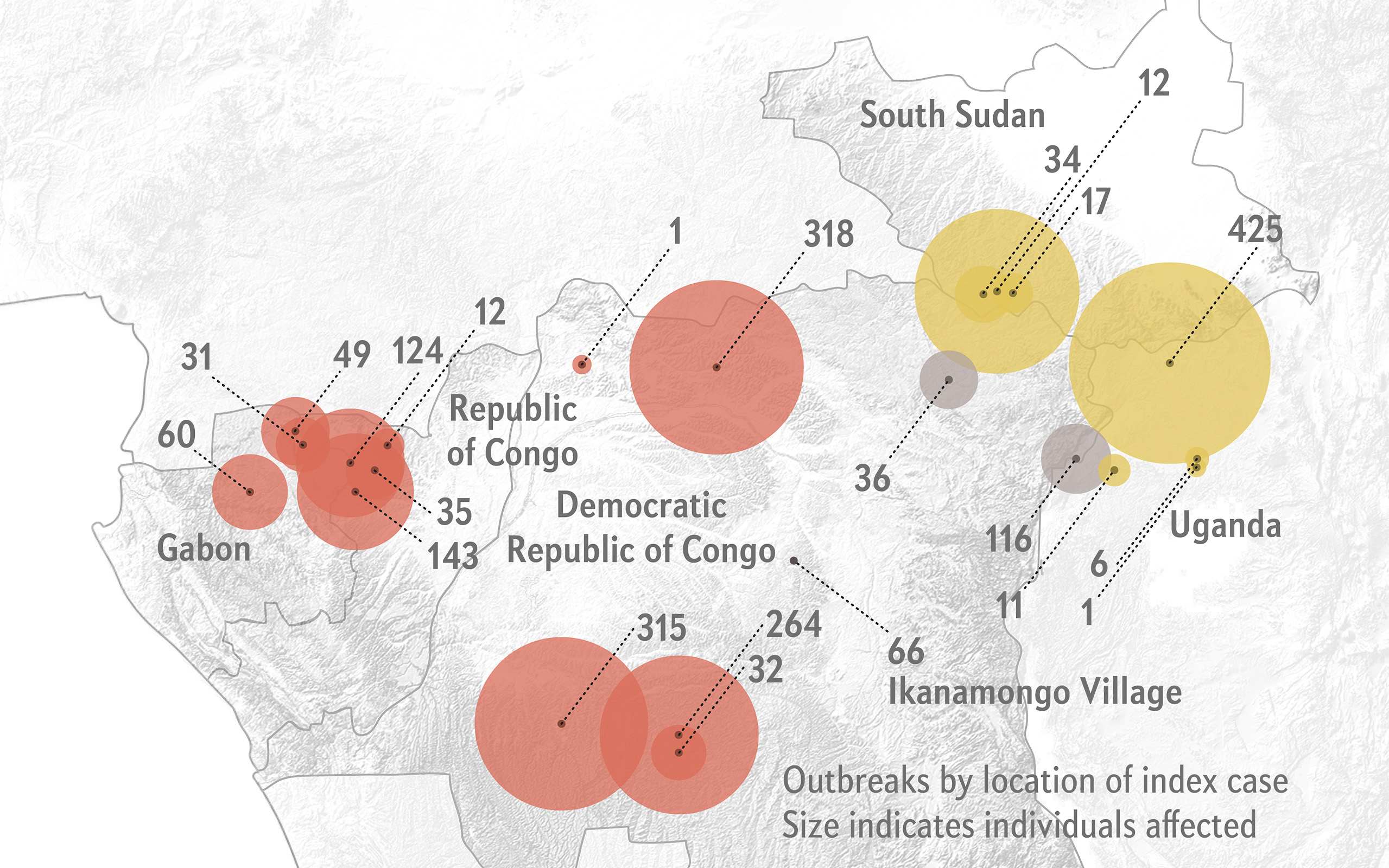 About
Balancing the worlds of art, design, statistics and science, Pitch creates data visualizations and interactive experiences that are showcased across a multitude of mediums for clients who include Facebook, GE, GM, Google, eBay, Esquire, ESPN, MoMA, The McKnight Foundation, Popular Science, PEW Charitable Trust, IBM, Fortune, The Max Planck Institute and many more.
We create visualizations for multi-touch interactive walls, kiosks, smart phones, tablet devices, console games, websites, stand-alone applications, museum exhibits, projections, textiles and print. We have experience in a wide variety of industries including banking, social media, economic, finance, transportation, health, sports, scientific research, advertising, politics and art.
Our innovative and sought-after work is attributable to an out-of-the-box creative process that brings together a small, agile and forward-thinking team from a range of different yet complementary backgrounds. The success of our work is attributed to our multidisciplined talents and our constant focus on high quality and innovation. We help bring complex ideas and information to a broad audience in an engaging and intuitive way.
Clients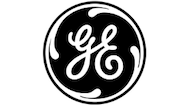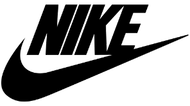 Activision
AirTran
Arab Studies Institute
AT&T
Bloomberg Foundation
Boston Public Schools
Boston University
Climate Impact Lab
Cosmopolitan Magazine
Dow Jones
eBay
ESPN
Esquire Magazine
Facebook
Focus Magazine
Fortune Magazine
Gates Foundation
GE
General Motors
GEO Magazine
George Mason University
Google
Hearst Magazine
IBM
Inc. Magazine
Inequality Media
Inter-American Dialogue
Interos
L3Harris
La Panacée
Lincoln Center for the Performing Arts
Lion Television
McGraw-Hill
Netflix
New York Public Library
Nielsen
Nike
Norfolk Southern
Oil Change International
Oracle
Popular Science
Princeton University Press
ProPublica
Ravenswood City School District
Rhodium Group
Save the Redwoods
Scientific American
Shutterfly
Southern Poverty Law Center
SPIN Magazine
The Anti-Defamation League
The Asian American Foundation
The City of Montpellier
The Climate Institute
The McKnight Foundation
The Minderoo Foundation
The Nation
The North Face
The Pew Charitable Trusts
The PGA
The Russian Avangard Foundation
Time Magazine
Twitter
United Nations Development Programme
University of California, Davis
University of Georgia
Visa
Wall Street Journal
WIRED Magazine
Wisconsin Institutes for Discovery
World Justice Project
WorldBook
YouTube