This is our original work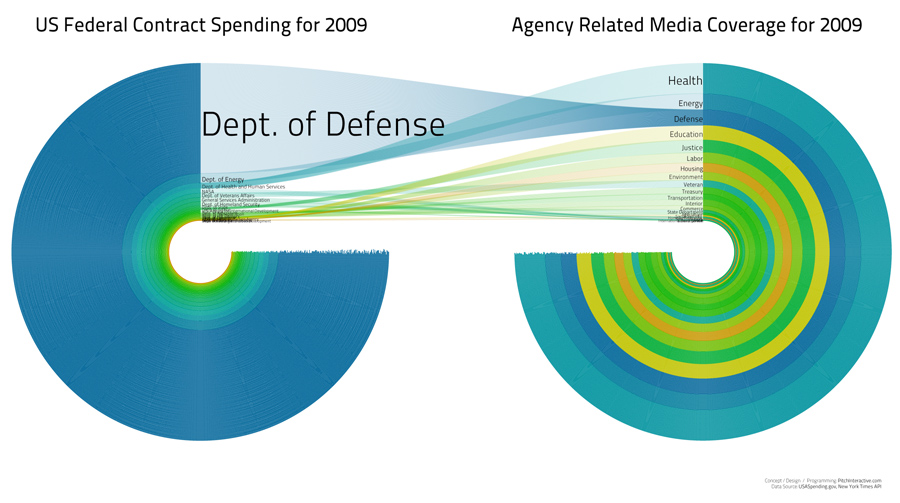 A sans-circle version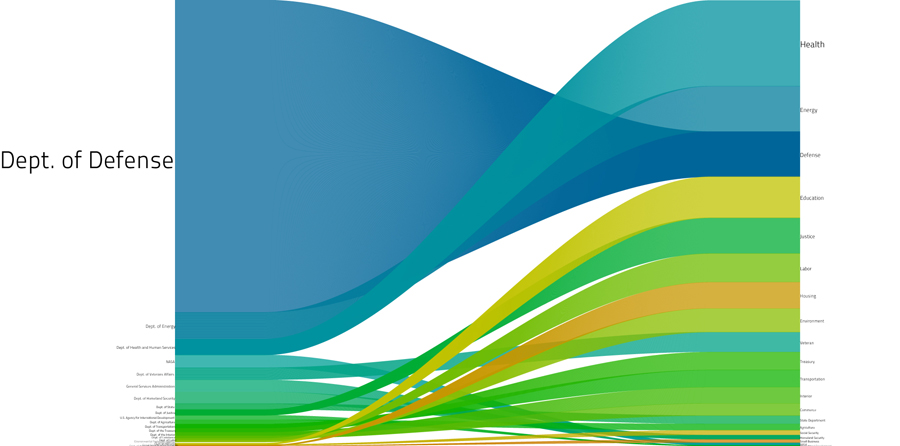 An additional iteration that helps address the overlap and transparency between the connections and labels.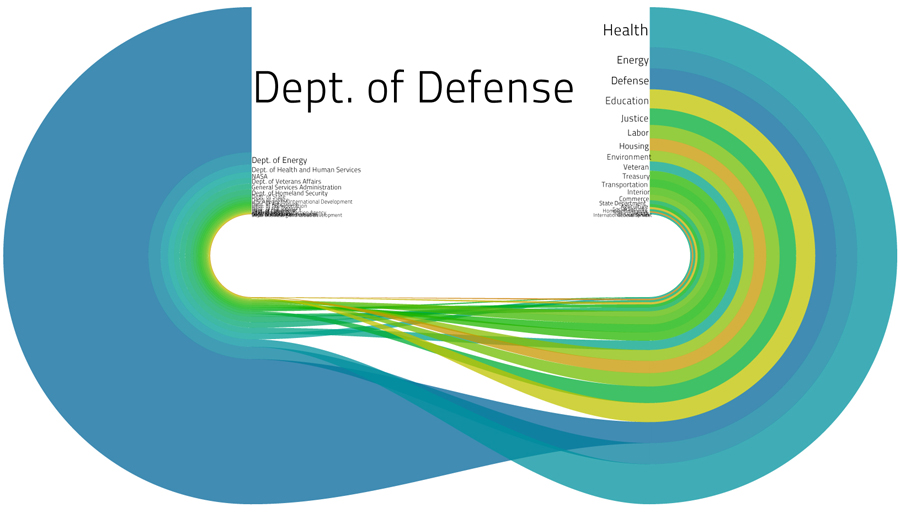 OVERVIEW
---
What our government spends vs. how much we talk about it. Two important aspects that help define and shape our society. Most Americans know that our government spends an insane amount of our tax dollars on defense, but how do you show just how much we spend compared to all other areas in our country? We wanted to use a minimal approach with no labeling necessary. The design says it all and shows what almost 70% of Federal contract spending going to defense looks like com paired to all other agencies (Education get's around 1%). For anyone asking for the numbers, scroll down this page. We've added all the data used to create the left visualization above.
For the right visualization, we used the New York Times API to parse through all articles written in 2009. Using general keywords that dealt with characteristics of each agency, we displayed their frequency usage in comparison with one another. The colors on the right rings are representative of their colors from the left. What we see is that all of the much less-budgeted agencies from the left ring are discussed about far more in our news. The Dept. of Health and Human Services, which was a major issue of discussion in 2009 with health care reform being hotly debated only accounts for about 4% of our federal budget, though it's the most discussed issue in the media.
You can find detailed federal spending data on this page and the results of the NYT API call we made.
Thanks to Political Math (http://www.politicalmathblog.com/) for bringing our attention to an initial assumption we made that was incorrect. We initially implied this was the entire Federal spending being represented. However, the data gathered from the USASpending.gov API only accounted for contract spending and we corrected this. Apparently, we grabbed the data just before USASpending.gov was relaunched and the interface we used to extract the data implied we were getting everything. The new site is more comprehensive about extracting more types of government spending and is still evolving, so we look forward to grabbing more data from them soon to work with. However, we believe the story of the visualization still holds firm.
Below is an iteration made by Political Math that shows the TOTAL amount of federal spending.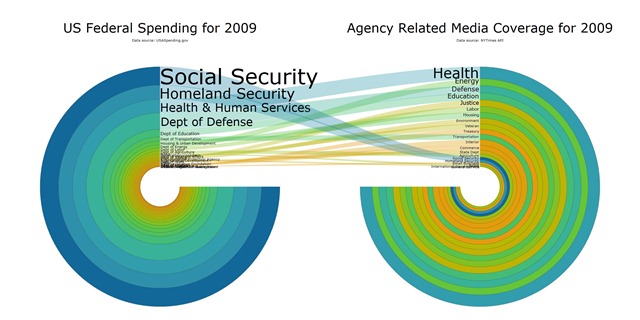 THE STORY
---
Our focus here was on exploring new ways to visualize government data. Our government spends an insane amount of funds on defense. More than the rest of the world combined. And nearly ALL of the defense budget is contract spending.
What's the problem with contract spending? On one side, contract spending can be good because it allows innovation to be invested in with less goverment red tape to cut through. However, contract spending also removes accountability and lifts the required transparency that government-run programs get. It passes the work and responsibility (that tax dollars pay for) to third-party vendors which do not face the same kind of regulation and oversight present in the government. Knowing that, it's clear that the real innovation dollars goes primarily to defense and also makes clear that the US policy on defense spending is mostly void of transparency that helps us better understand exactly what the government is doing to protect our nation. It's a double-sided sword.
That said, the work we did is still valid for the point we want to make. Below is the process we took for making this work.
THE PROCESS
---
As with the process of all other visualizations we do, our process was evolutionary. We gather the data, analyze and formulate questions, construct visuals that we are already familiar with (i.e. using established toolsets like bar graphs, line graphs, etc..) and then we explore and refine ways to tell a story with this data in compelling ways.
Because, as a society, we are inherently used to looking at bar graphs and pie charts to examine data (they've been with us for some time), our attempt is to break away from this and explore other ways to gain insight and a broader perspective of the information being visualized. We use design elements and visual aspects that help emphasis the story being told. The visual may be immediately clear to some and make absolutely no sense for others. Because of this, we wanted to illustrate our process in building this visualization and release the source code used to build this.
With this, we hope to see some further improvements to our work or further explorations with the same data to illustrate the insane amount the US government spends on defense and how this relates to media coverage (or something else). Send us your results (info at pitchinteractive.com) and we'll post other explorations here.
Now, how we went about creating this piece:
Step One: Determine the initial direction to take, formulate questions.
We looked at the USASpending.gov site and started to make initial generic queries on the data available. The result we found was federal [contract] spending by agency with a list of top contractors and top products. This prompted us to first ask just how much the government spends on different agencies. The relation to media coverage came only after we first analyzed the spending. Since the spending seemed disproportionately heavy on just a few agencies, we were curious to try and gauge just how much topics related to these agencies were prevalent in the media.



Step Two: Gather and parse the data.
Using the API from USASpending.gov, we gathered funding data for all agencies, their respective funding, top products and top contractors.
Download the data we used or query the new USASpending.gov dataset for your own results
For the New York Times Data, you will need to get an Article API Key.



Step Three: Build basic visualizations to view the data and determine if there's something compelling here to be told.
Our first visualization was a series of bar charts. A larger bar chart (left) that represented all funding for each agency and two subsequent charts that shows the top $ amounts given to contractors (the top right) and products (the bottom right) and we drew lines to connect that contractor/product to it's respective agency:




What stood out for us was this dominance the Dept. of Defense had over all other agencies. That alone made the direction we took more focused at this piece of information. It's already obvious that defense being a vast majority of funding would mean they dominate the contractor and product lists.

Our next step was then to focus on a bigger picture and ways to show this dominance in spending for defense. At the same time, we were curious just how much dominance these agencies have in our daily lives. Using the NYT API, we queried general words for each agency to see how often this topic was brought up. An imperfect approach, but useful in formulating a very simple measurement. We had considered using a list of words for each agency, but decided that this would overcomplicate the process and deviate from an initial gauge at the relationships we wanted to determine.

This is the result of stylizing the agency allocation graph in relation to the media coverage:





What we discovered in this visualization was that, while government contract expenditures seem skewed toward a few agencies (especially Defense), our media coverage was far more evenly distributed. And this was the story we wanted to underscore. What were other ways to portray this information in an engaging format that draws the viewer and evokes them to explore this information.


Step Four: Beyond the bar chart: Explore new ways to represent this data
Up to now, the processes and methodologies we've used have been pretty standard. From here, we break away to portray this data and dig deeper with design elements to add visual meanings and associations. Design evokes emotion and with "decorative" elements, we attempt to emphasis on a visual story.

The use of the circlular shapes was, in part, to strengthen the visual relationship between both rings by creating a "visual momentum" that the eye follows from one side to another. The other message we wanted to convey is that not matter how you look at this (i.e. no matter what angle) you will still find the same message, which is the overbearing and unequivocal support for defense.

Below are both rings by themselves to show how they look individually followed by a link to the source code used to generate this.

US Federal Contract Spending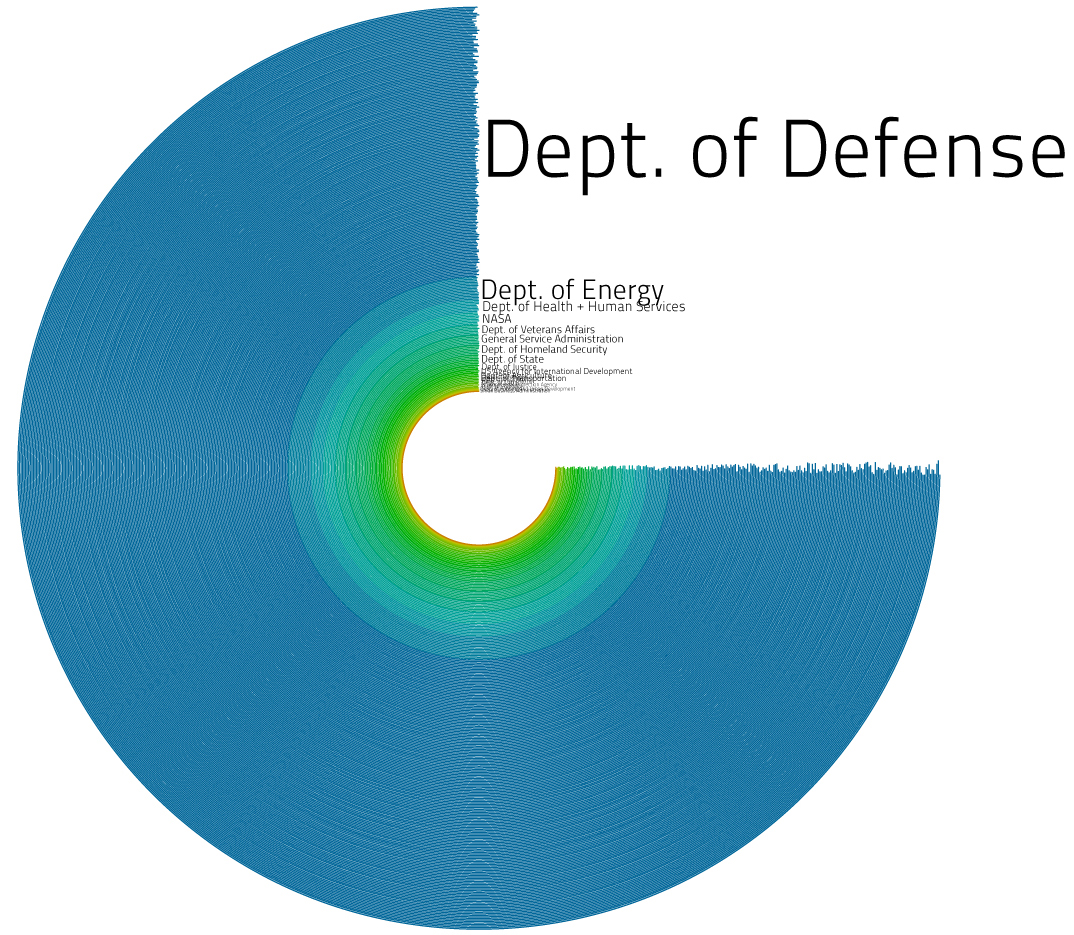 New York Times, word frequency in all articles for 2009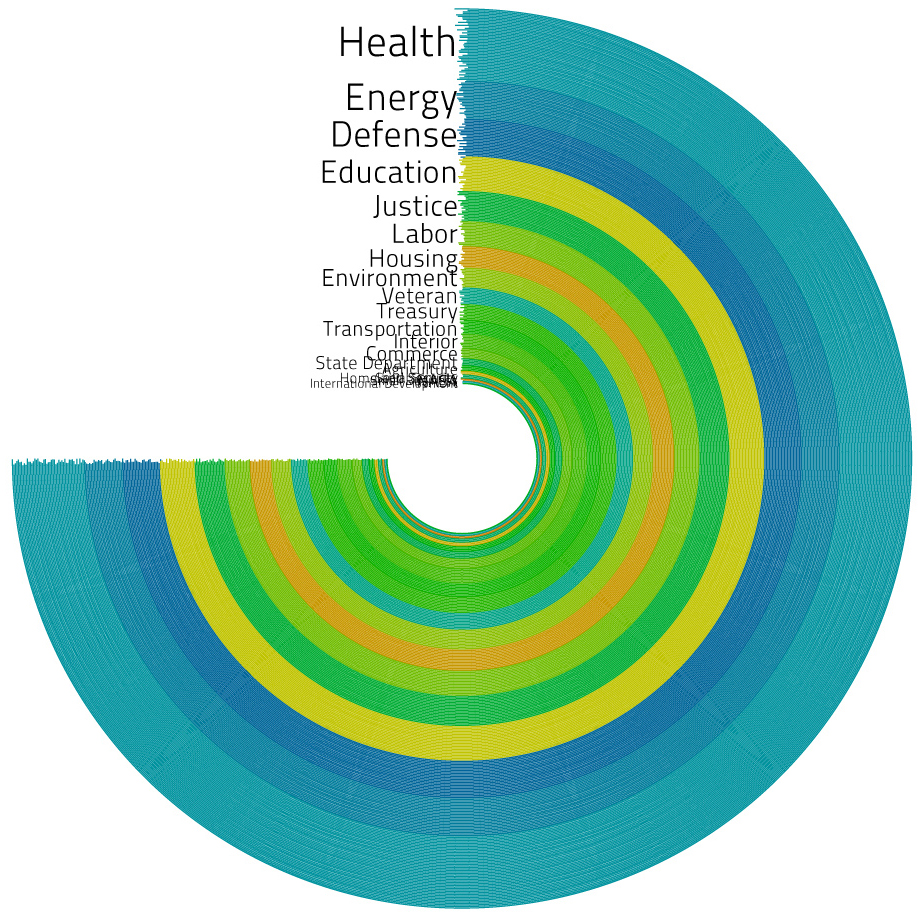 Now that you've seen the process, download the source code for this and play with it.